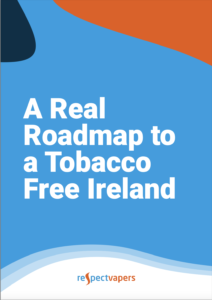 Ireland's approach to tobacco control is broken. While other nations witness tangible decreases in their smoking rate (see examples below), the number of Irish people who smoke has started to increase again. There is no question that the 'Tobacco Free Ireland' goal will be missed: the only question is by how much. To rectify this pressing problem Irish politicians, policymakers and NGOs need to develop a new approach.
In order to restart a real conversation about what needs to be done, Respect Vapers – which represents over 200,000 Irish vapers who use e-cigarettes as an alternative to smoking – has drawn up 'A Real Roadmap to a Tobacco Free Ireland.' By looking to international examples of progressive health policymaking, by providing smokers with accurate information and effective support and by ensuring that vaping products remain available (and remain more affordable than smoking), we can make a 'Tobacco Free Ireland' a reality.
CLICK HERE to read the full report: A Real Roadmap to a Tobacco Free Ireland.